Sparkling San Francisco:
A Jewel in the California Crown

by Dan Brook, Exclusive to VegDining.com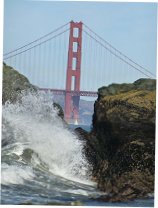 San Francisco is a great city to visit and, as I'm still discovering after more than two decades, a great city to live in. There is just so much natural beauty with its hills, beaches, parks, bay, and ocean, so much culture with its museums, theatres, music, art, and cafes, so many fascinating tourist sites with Golden Gate Park, the Golden Gate Bridge, Alcatraz, Angel Island, Coit Tower, the Ferry Building, Pier 39, so many unique neighborhoods with The Mission, The Castro, North Beach, Chinatown, Haight-Ashbury, and others. And cable cars!
But what would San Francisco be without its diverse and creative people and their progressive values? Indeed, what would San Francisco be without its restaurants?
It's fairly easy to find vegetarian options at many restaurants, some even having whole separate vegetarian menus or are willing to make any dish vegetarian (e.g., Andy's, Fleur de Lys, Ha's, Ricos, Roy's, Vanida, Minako), but in a city hosting about two dozen vegetarian and vegan restaurants, plus more in the surrounding area as well as many veg cafes, juice bars, bakeries (such as the wonderful worker-owned Arizmendi with two locations), and veg-friendly ethnic restaurants (especially Italian and the various Asian, but also Middle Eastern, Mexican, and others), we know we're in a very special place. And, perhaps no surprise, San Francisco officially encourages and supports Meatless Mondays (since 2010) as well as other green measures, including composting, reusable shopping bags, and renewable energy.
Isn't it amazing having to decide which Chinese vegetarian restaurant (hmmm... Shangri-La, one of the three branches of Enjoy, let's go with Lucky Creation!), which Japanese vegetarian restaurant (I love Cha-Ya!), which Vietnamese vegetarian restaurant (definitely Golden Era), which Indian vegetarian restaurant (Udupi Palace is absolutely wonderful), which American vegan restaurant (with two SF locations, Herbivore is my favorite, though Source is also quite good and has the best veggie burger in town), or even which raw vegan restaurant in this magical city of only three-quarters of a million people?
Did I mention veg Thai food? Thai Idea is more than a great idea; they put it into lovely practice. The restaurant has very nice classic upscale Thai design, the service is attentive, dishes are presented artistically and with care, everything is delicious without exception (e.g., tom yum, red curry tofu, pad see-ew, tofu kra-praw), portion size is good, and prices are reasonable. It is excellent on all fronts and highly recommended.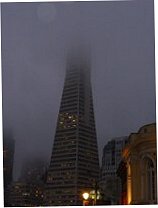 Loving Hut, part of an international vegan chain of over 120 restaurants following Supreme Master Ching Hai and her green ideology with three restaurants in San Francisco, has a large selection of very tasty vegan Asian food in bright and clean environments.
For a great experience, head to Gracias Madre. Gracias Madre, owned by the Café Gratitude family, is an organic vegan taqueria, incorporating local, seasonal, and heirloom veggies as well as other interesting specialties and delicacies. The walls are covered with the beautiful works of local muralists and the food, mostly sourced from their nearby organic Vacaville farm, is quite good and is a very welcome addition to the huge field of mixed Mexican restaurants.
Most Indian restaurants are very veg-friendly, even sympathetic, but (South Indian) Udupi Palace is delightfully all veg and in a lovely setting. At Udupi Palace, part of a small national chain of south Indian vegetarian restaurants, be sure to try their delicious dosa or uthapam, southern specialties, though all their food is excellent and their service never falters.
Interestingly, there are two accidental vegetarian pizza places: Liguria Bakery, which only serves amazing focaccia in the mornings, and Una Pizza Napoletana, which serves dinner four nights a week. Both of them offer a small selection of veggie toppings, both eschew meat (Una Pizza Napoletana unfortunately introduced meat on one of its pizzas on Saturday night only), and both are superb.
If you're able to splurge for a fancy meal, you'll have to choose between the great Greens along the bay and mighty Millennium downtown, both of which are excellent. Greens is a San Francisco Zen Center-inspired vegetarian restaurant, still sourcing its organic produce from the Zen Center's Green Gulch Farm, with a lovely interior matching the lovely views. Millennium is an upscale vegan restaurant, with a zinc bar, serving imaginative gourmet dishes. Both are expensive, but quite a treat.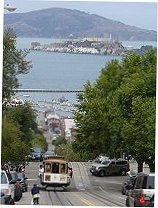 If you want to get some vegetarian food and see what should be a tourist site at the same time, head downtown to Rainbow Grocery, an all-vegetarian, progressive, altruistic, supermarket-sized, worker-owned cooperative. It's a taste of utopia! Other Avenues, though small and in the Sunset, is also a vegetarian worker-owned cooperative (a smaller taste of utopia). Both of these places try to do local sourcing, carry organic and bulk items, and use renewable power.
While you're seeing, doing, and eating your way through San Francisco, you might pass Food Not Bombs giving away free vegetarian food. Or you might stumble into one of the many thriving farmers' markets or past veg food trucks or kiosks (e.g., Donna's Tamales, Hodo Soy Beanery). Ah, so little time and so much to eat! You might pass by the headquarters of VegNews or even Twitter, whose co-founder and creative director is vegan!
To find these and many other vegetarian restaurants around the world, just visit VegDining.com. And if you ever need more information, or want to meet other vegetarians and vegans in San Francisco, feel free to contact the San Francisco Vegetarian Society, the Bay Area Vegetarians - or me.

Dan Brook, Ph.D., is a VegDining City Ambassador and author of several VegDining city reviews, as well as a writer, speaker, poet, photographer, activist, and instructor of sociology and political science. His most recent publication is the community cookbook Justice in the Kitchen. He also maintains Eco-Eating at www.brook.com/veg, The Vegetarian Mitzvah at www.brook.com/jveg, Food for Thought-and Action at www.brook.com/food, and No Smoking? at www.brook.com/smoke. Dan welcomes questions, comments, contributions, and other communication via brook@brook.com.
Updated: September 2012. Photos courtesy of Dan Brook.
---
Travel also to these VegDining destinations ...
Africa:
Adventures in Uganda

Asia:
Andaman Islands (India)
Bali & East Java, Indonesia
Boracay: A Surprise Vegetarian Destination
Central Vietnam: Danang, Hoi An and Hue
Chiang Mai: J is for Vegetarian
Dubai: City of Merchants
Holy Haridwar & Righteous Rishikesh
Kyoto: New Treats in an Ancient City
Laos: Sabai dee!
Luang Prabang: Vegetarian Gem of the Mekong
Palitana, Gujarat: Abode of the Gods
Phuket, Thailand
The Vegetarian Soul of Seoul
Singapore: Vegetarianism in Southeast Asia
Tamil Nadu: Enchanting for Vegetarians
Udaipur: Venice of the East

Australia/New Zealand:
Veggie Sydney
Tasmania: Australia's Apple Isle

Europe:
Amsterdam: Seductively Intoxicating
Barcelona: Europe's Veg Heaven
Berlin: Divided Past, United Present
Vintage France: Bordeaux
Dijon: Doorway To The Arts
Florence: Paradise Found
Land of Contradictions: Veggie Traveling in Iceland
London: Finding a Slice of Vegan London
Lyon: La Vie Végétarienne à Lyon
1847 to 2011 ... Magnificent Manchester
Munich: Eat, Drink and Be Veggie
A Weekend in Paris
Sardinia: The Land of Longevity

Central America:
Costa Rica & Nicaragua
Touring St. Thomas

North America:
Veg*n Out in Berkeley
Goin' Vegan in Carmel-by-the-Sea
Kanab, Utah: Vegetarian Surprises in the Desert
Kauai: Veg-Friendly Paradise
Laurentians: New Heights for Vegetarians!
Los Angeles: A Feast of Global Choices
Montreal: VegMontreal
New York City, The Big Apple
Ottawa: Ottawa's Green Scene
Goin' Vegan in Philadelphia
Quebec City: Storming the Ramparts
Quebec's Eastern Townships
San Diego: Vegetarianism on the West Coast
Rock out in St. John's
San Francisco: Sparkling Jewel in the California Crown
San Jose, CA: Vegetarian Valley of Heart's Delight
Old San Juan, Puerto Rico
Seeing Seattle
Feasting on the Fjord at Tadoussac, Quebec
Toronto: A Great City for Vegetarians
Yucatan Peninsula (Mexico): Caribbean and Colonial Charm>


South America:
Rio de Janeiro: Carnival Capital