Chiang Mai, Thailand:
J is for Vegetarian
by Dan Brook, Exclusive to VegDining.com

Chiang Mai is a wondrous city to visit. The city has a warm climate and warm people, hundreds of Buddhist temples and ancient ruins, expansive markets and inexpensive prices, easy access to Hill Tribe villages and national parks - and elephants! Chiang Mai literally means "New City", though it's now over 700 years old and is surrounded by a moat, city gates, and partial walls.
Although meat is omnipresent in Thailand, vegetarian food is widely available-and delicious! One of the words for vegetarian in Thai is jay (the other is a more cumbersome mongsiweelaat), so in Thailand "J" is for vegetarian!
Chiang Mai has a wealth of vegetarian restaurants, boasting over 40 of them. One could go to a small, traditional Thai restaurant (the taro rolls are great at Thai Vegetarian Food Restaurant), an organic one with a little fair trade store at a temple (try the fried flower salad at Pun Pun, located at Wat Suan Dok), a western-oriented one for juices and sandwiches (Juicy4U will make any combo of fruit and vegetable juice), an old backpacker standby (Aum), or a little stall in the Lamyai day market (Jay Jeng). For a vegetarian rooftop party place that also sells hemp and cotton clothing, head to THC at night. You certainly won't go wrong with any of these or other veg places near Wat Suan Dok, near Chiang Mai University, at Central Airport Plaza, or downtown.
If you're close to the bus station (which also has a small vegetarian stall with noodles, fruit, and water), stop into Ban Pan Kan at McCormick Hospital, for some amazing veg offerings. As a macrobiotic restaurant with a little store, they unfortunately serve fish, but have a wide and delicious range of veg goodies to choose from. From various teas and soups, salads and smoothies, tofu and tempeh, and more, this eco-friendly restaurant (organic when possible, no styrofoam, minimal plastic, etc.) serves scrumptious and healthy food on a delightful outdoor veranda. Their pumpkin soup, among other delicacies, is outstanding.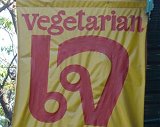 In the Old City, within the moat, May Kaidee's, which also has two branches in Bangkok, makes a very worthwhile meal. Try their pumpkin hummus, spring rolls, seaweed soup, pineapple fried rice, or other selections for a fresh treat. If you enjoy their food, you can sign up for one of their Thai vegetarian cooking classes and learn to create these wonders for yourself!
Just outside the Old City, at 42 Mahidol (toward the airport), is the huge, open-air Vegetarian Society restaurant. Open Monday through Friday until 2 PM, this very friendly, very inexpensive, buffet-style restaurant (with an attached health food store) is quite an experience. Not only is the food self-serve, but the dishes, cups, and utensils are self-clean. Enjoy a selection of tasty treats for under a dollar and then head toward the recycle bank in the back and start washing with other satisfied customers.
It's also easy to find vegetarian food and snacks without going to vegetarian restaurants. You'll frequently find a variety of veg snacks being sold on the streets: tropical fruits (mango, papaya, pineapple, passionfruit, oranges, watermelon, strawberries, and some Thai fruits rare in North America, such as mangosteen, longan, lichee, and rambutan), fresh fruit and vegetable juices, coconuts, and bananas raw, roasted, fried, and otherwise, as well as soymilk, bread, waffles, coconut pancakes, pastries, noodle dishes, and more. One of my favorite Thai snacks is kow laam - usually consisting of sticky rice, some black beans, and coconut milk roasted in a section of bamboo; it's fun, portable, delicious, filling, and healthy! There are also many veg-friendly Thai, Indian, and European restaurants.
There's much more to do, eat, and enjoy in Chiang Mai, but I'll leave the rest for you to discover! Sanuk (enjoy)!
Dan Brook, Ph.D., is a writer, speaker, activist, and instructor of sociology and political science. He also maintains Eco-Eating, The Vegetarian Mitzvah, and No Smoking?. Dan welcomes questions, comments, contributions, and other communication via brook@brook.com.
Photos courtesy of Dan Brook.
---
Travel also to these VegDining destinations ...
Africa:
Adventures in Uganda

Asia:
Andaman Islands (India)
Bali & East Java, Indonesia
Boracay: A Surprise Vegetarian Destination
Central Vietnam: Danang, Hoi An and Hue
Chiang Mai: J is for Vegetarian
Dubai: City of Merchants
Holy Haridwar & Righteous Rishikesh
Kyoto: New Treats in an Ancient City
Laos: Sabai dee!
Luang Prabang: Vegetarian Gem of the Mekong
Palitana, Gujarat: Abode of the Gods
Phuket, Thailand
The Vegetarian Soul of Seoul
Singapore: Vegetarianism in Southeast Asia
Tamil Nadu: Enchanting for Vegetarians
Udaipur: Venice of the East

Australia/New Zealand:
Veggie Sydney
Tasmania: Australia's Apple Isle

Europe:
Amsterdam: Seductively Intoxicating
Barcelona: Europe's Veg Heaven
Berlin: Divided Past, United Present
Vintage France: Bordeaux
Dijon: Doorway To The Arts
Florence: Paradise Found
Land of Contradictions: Veggie Traveling in Iceland
London: Finding a Slice of Vegan London
Lyon: La Vie Végétarienne à Lyon
1847 to 2011 ... Magnificent Manchester
Munich: Eat, Drink and Be Veggie
A Weekend in Paris
Sardinia: The Land of Longevity

Central America:
Costa Rica & Nicaragua
Touring St. Thomas

North America:
Veg*n Out in Berkeley
Goin' Vegan in Carmel-by-the-Sea
Kanab, Utah: Vegetarian Surprises in the Desert
Kauai: Veg-Friendly Paradise
Laurentians: New Heights for Vegetarians!
Los Angeles: A Feast of Global Choices
Montreal: VegMontreal
New York City, The Big Apple
Ottawa: Ottawa's Green Scene
Goin' Vegan in Philadelphia
Quebec City: Storming the Ramparts
Quebec's Eastern Townships
San Diego: Vegetarianism on the West Coast
Rock out in St. John's
San Francisco: Sparkling Jewel in the California Crown
San Jose, CA: Vegetarian Valley of Heart's Delight
Old San Juan, Puerto Rico
Seeing Seattle
Feasting on the Fjord at Tadoussac, Quebec
Toronto: A Great City for Vegetarians
Yucatan Peninsula (Mexico): Caribbean and Colonial Charm>


South America:
Rio de Janeiro: Carnival Capital