Florence: Paradise Found!
by Dan Brook, Exclusive to VegDining.com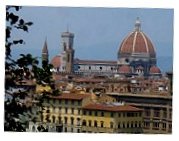 Florence is a veritable treasure trove, overflowing with history, culture, art, and food. Indeed, the name Florence comes from the Latin, meaning to flower or flourish. And it certainly does.
Not only does Florence (Firenze in Italian) have many outstanding Renaissance museums, such as the Uffizi Gallery and the Academy Gallery, the city itself is a museum, often feeling like one is walking inside a painting of a Renaissance scene.
Florence is the land of Michelangelo's David, Botticelli's The Birth of Venus, Brunalleschi's dome, Giotto's tower, the Galileo and Leonardo da Vinci museums (and graves), Dante's house, Macchiavelli's machinations, Donatello's sculptures, the Medici family tomb, Savonarola's Bonfire of the Vanities, and St. Francis of Assisi's robe, as well as Amerigo Vespucci, Puccini, Florence Nightingale, the modern piano, and so much else. (Mark Twain even lived here for a while.)
Italian is the language of music (think allegro, scherzo, crescendo) and Florence hits all the right notes with perfect pitch. Florence has more culture than one can easily take in, more exquisite food and wine than one can consume, and more art than one can shake a paintbrush at. Unsurprisingly, the historic center of Florence is a UNESCO World Heritage Site. It is for these and other reasons that Florence receives ten million visitors annually. I was delighted to be one of them this year.
The capital of Tuscany, Florence is in easy striking distance of various Medieval towns, including the splendid little city of Siena, the remarkable hilltop town of San Gimignano, and the famed Chianti vineyards carpeting the entire region. A little farther away, one can sojourn to the college town of Pisa with its famous leaning tower and, outside Tuscany, to the floating city of Venice and the ancient capital of Rome, each with its own magical charms.

Florence is a very friendly city for tourists, vegetarian and otherwise. With bicycle paths throughout the downtown area and along the picturesque River Arno and a car-free zone around the central site of the impressive Duomo (Cathedral), it is quite easy and pleasurable to wander this glorious city. Across the River Arno, climb up to the Piazzale Michelangelo to admire a bronze David and experience the best views of Florence from anywhere. Coming to this plaza is a wonderful experience anytime, but be sure to return here for a magical sunset.
Florence, as well as the rest of Italy, is also a great place for vegetarians to eat. Indeed, the two patron saints of Italy, St. Francis of Assisi and St. Catherine of Siena, were both vegetarians. Italy is also, we now know, the land of vegan gladiators, those strong and bulky men (and some women) who mostly built their bodies with protein-rich beans and barley. Although it is still not difficult to acquire beans and barley, which I hungrily did, it was ridiculously easy to find pizza (both vegetarian and vegan were ubiquitous, the latter of which is called pizza marinara).
There are also panini (grilled sandwiches with a variety of local vegetables, with or without cheese), pasta (fresh pasta often has egg, dried pasta does not), calzone (which can be stuffed with anything), grilled and marinated vegetables (eggplant, zucchini, peppers, tomatoes, mushrooms, broccoli, onion, and so on), fresh breads and herbed focaccia, and an array of local cheeses. In Italy, even vegetarians can eat pepperoni - in Italian, that simply means peppers and has nothing to do with meat. For dessert, there are hills of gelato (usually milk-based, but a few places have soy gelato - just ask!), sorbet, and ices, seemingly on nearly every block. Needless to say, I ate well!

Ruth's Kosher Vegetarian Restaurant is a few doors down from the magnificent Jewish Synagogue (the Tempio Maggiore, which offers interesting tours of its chapel and museum). Although Ruth's has good Mediterranean food, it unfortunately also serves a few fish dishes. When in doubt at a particular restaurant, it is good to not only say that you are vegetariano, but also that you non mangio carne o pesce (I don't eat meat or fish) and, if necessary, formaggio (cheese), uovo (egg), and burro (butter). There is also Prodotti Biologici, a small organic health food store and market on Borgo Pinti, that has some exclusively-vegetarian fresh, prepared, and packaged foods. The only full-time, fully vegetarian restaurant in Florence, as of this writing however, is Ristorante Il Vegetariano.
Open for lunch and dinner, the reasonably-priced and very popular Il Vegetariano on Via delle Ruote serves delicious and healthy vegetarian food to a nice mix of locals and tourists. Their daily menu is carefully labeled with various vegan and gluten-free options, making ordering easy and comfortable. The restaurant has three different dining areas: the front is a more traditional restaurant dining room; the eclectically-decorated middle is where the ordering and preparing take place; and the back, where there is a peaceful outdoor garden.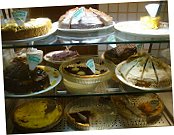 When I was there, Il Vegetariano's piato misto, a mixed appetizer plate, included roasted potatoes, grilled peppers, and a white bean stew, all cooked to perfection. The zucchini torte was light yet savory, with a sublime blending of flavors. The fusille pasta with seitan and mushrooms was simple and fresh, a common approach in Italy.
They also serve customized salads, allowing us to get just what we wanted, in addition to yummy soups, hearty brown bread, and a variety of coffees, teas, wines, beers, and liqueurs. I tried their house vino rosso and was quite pleased. By all means, however, be sure to leave room for dessert! There is a display of enticing possibilities, including luscious fruit crumble, decadent chocolate cake, and my favorite lemon tart, piquant without being overpowering.
Fueled by this scrumptious, satisfying, salubrious, and sustainable food, you will be ready again to explore and experience the city's splendor. Enjoy the magic of Florence - where paradiso can be found - and buon appetito!
Dan Brook, Ph.D., is a writer, poet, photographer, speaker, activist, and freelance instructor of sociology and political science. He lives with his wife, son, and rat - all vegetarian, of course - in San Francisco. He also maintains Eco-Eating, The Vegetarian Mitzvah, and No Smoking?. Dan welcomes any questions, communications, and contributions via brook@brook.com.
Photos courtesy of Dan Brook.
---
Travel also to these VegDining destinations ...
Africa:
Adventures in Uganda

Asia:
Andaman Islands (India)
Bali & East Java, Indonesia
Boracay: A Surprise Vegetarian Destination
Central Vietnam: Danang, Hoi An and Hue
Chiang Mai: J is for Vegetarian
Dubai: City of Merchants
Holy Haridwar & Righteous Rishikesh
Kyoto: New Treats in an Ancient City
Laos: Sabai dee!
Luang Prabang: Vegetarian Gem of the Mekong
Palitana, Gujarat: Abode of the Gods
Phuket, Thailand
The Vegetarian Soul of Seoul
Singapore: Vegetarianism in Southeast Asia
Tamil Nadu: Enchanting for Vegetarians
Udaipur: Venice of the East

Australia/New Zealand:
Veggie Sydney
Tasmania: Australia's Apple Isle

Europe:
Amsterdam: Seductively Intoxicating
Barcelona: Europe's Veg Heaven
Berlin: Divided Past, United Present
Vintage France: Bordeaux
Dijon: Doorway To The Arts
Florence: Paradise Found
Land of Contradictions: Veggie Traveling in Iceland
London: Finding a Slice of Vegan London
Lyon: La Vie Végétarienne à Lyon
1847 to 2011 ... Magnificent Manchester
Munich: Eat, Drink and Be Veggie
A Weekend in Paris
Sardinia: The Land of Longevity

Central America:
Costa Rica & Nicaragua
Touring St. Thomas

North America:
Veg*n Out in Berkeley
Goin' Vegan in Carmel-by-the-Sea
Kanab, Utah: Vegetarian Surprises in the Desert
Kauai: Veg-Friendly Paradise
Laurentians: New Heights for Vegetarians!
Los Angeles: A Feast of Global Choices
Montreal: VegMontreal
New York City, The Big Apple
Ottawa: Ottawa's Green Scene
Goin' Vegan in Philadelphia
Quebec City: Storming the Ramparts
Quebec's Eastern Townships
San Diego: Vegetarianism on the West Coast
Rock out in St. John's
San Francisco: Sparkling Jewel in the California Crown
San Jose, CA: Vegetarian Valley of Heart's Delight
Old San Juan, Puerto Rico
Seeing Seattle
Feasting on the Fjord at Tadoussac, Quebec
Toronto: A Great City for Vegetarians
Yucatan Peninsula (Mexico): Caribbean and Colonial Charm>


South America:
Rio de Janeiro: Carnival Capital