VegDining Restaurant Profile:
Sage's Cafe
(Salt Lake City, Utah, USA)
by Heidi P. Cruz, VegDining.com

Salt Lake City's Best Vegetarian Restaurant * Sage's Café, was a result of several years' hard work by its owners, Ian and Kelsey Brandt.
"We spent two years preparing an international lunch buffet," Ian says. "We also spent two years preparing a weekly 'Taste of the World' menu (eventually replaced with their Raw Foods Night). There was a different country each Thursday night. I remember researching the next week's menu after getting home at 1 a.m. each Thursday. The shopping was difficult and the planning was strenuous." Despite the 70-hour workweek he regularly put into the restaurant, however, he muses: "It is fun!"

Ian actually spent nearly his entire lifetime in the food service business, working as a dishwasher when 13 years old, as a server from 14-22 years old, and then taking up hospitality management and economics in college. But his first experience as a chef began when the couple opened Sage's Café the year Ian turned 23.
Sage's Café was named after Ian and Kelsey's son, which probably explains why the restaurant has a unique feature: a kids' menu. Ian says that having a kids' menu was both a business and a philosophical decision.
"Kids are the future and we need to help make them comfortable and loved. We do this by including them in the dining experience. If the kids are comfortable, the parents are more comfortable, and have a better experience with organic vegetarian cuisine." This, according to Ian, is part of what keeps customers coming back.
The restaurant's most popular entrees are the Mushroom Stroganoff and the Magical Wok Curry Bowl. Sage's Café specialties now also include the "Raw Foods Night", which happens every last Friday of the month, their daily seasonally inspired specials, the Carrot Butter Pate, Shiitake Escargot (the Best Faux Escargot" for 2005, by City Weekly), the Vegan Tiramisu, Raw Cashew Pad Thai Salad, and the Tuesday all-you-can-eat Pizza Night.
What sets Sage's Café from other restaurants, whether or not vegetarian, isn't just the great food, but also the fact that the chefs use only the healthiest organic ingredients and no preservatives in preparing the dishes, and the restaurant supports environmentally sustainable products.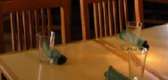 In the seven years that they have been serving Salt Lake's diners, guests come back, according to Ian, "because they know we go out of our way to serve them. We make them feel special. More than being our customers, they're on our team in helping recreate our community."
Sage's Café's commitment to its community is reflected in Ian and Kelsey's philosophy that the restaurant is a "creation". They believe that "this lifestyle is one where the function of the business is more of a contribution to society then a deficit. We were inspired by Eric Tucker's recipes and San Francisco restaurant Millennium's concept, John Robbins's passionate research, my grandparents and parents, the natural foods industry's momentum, and the love for the farmers the culinary artisans," Ian reminisces.
Sage's Café's success has attracted offers to sell franchises on the restaurant, but Ian refused. "We are reluctant to change this wonderful creation for money. The creation of Sage's Café was interactive with Salt Lake City and our visiting guests. I want Sage's to represent the folks that support it."
It looks like those folks are many and their numbers are increasing: Ian and Kelsey opened another restaurant, Vertical Diner, on 20 January 2007. Check it out at 2280 S. West Temple, Salt Lake City, Utah. Their phone number is (801) 484-8378.
We are proud to be part of Sage's Café's community. The Café is a VegDining Restaurant Partner, offering a 10% discount to VegDining Card holders. To learn more about Sage's Café, you can visit their Full Listing on our site.
* Awarded for the fifth year in a row by City Weekly Magazine's reader poll. Sage's was also awarded VegDining's 2006 Vegetarian Restaurant of the Year for the state of Utah.
Photos courtesy of Sage's Cafe.
---
Other VegDining Restaurant Profiles ...
Vegan Pudding (Vancouver, BC, Canada)
WaterCourse (Denver, CO, USA)
Karma Waters (Hoi An, Vietnam)
Padmanadi Vegetarian Restaurant (Jakarta and Edmonton, Canada)
The Vegetable Garden (Rockville, MD, USA)
Vegetarian House (San Jose, CA, USA)
Restaurant Bambu Vegetariano (Valparaiso, Chile)
Candle Cafe/Candle 79 (New York, USA)
Montali Country House (Umbria, Italy)
Sage's Cafe (Salt Lake City, USA)
Prana Vegetarian Restaurant (Boracay, Philippines)
Revive Vegetarian Cafe (Auckland, New Zealand)