VegDining Restaurant Profile:
Blossoming Lotus Restaurant
(Kauai, Hawaii)
by Heidi P. Cruz, VegDining.com

The Blossoming Lotus Restaurant takes its intriguing name from the journey to enlightenment. A lotus flower in bloom, according to co-founder and executive chef Mark Reinfeld, represents the journey towards spiritual perfection: the flower grows out of the mud, which symbolizes the darkness of violence and ignorance, into the light of knowledge and peace. "I like the idea of applying this awareness to the restaurant's food choices. A vegan diet is the most gentle way we can interact with our planet and other beings," he adds.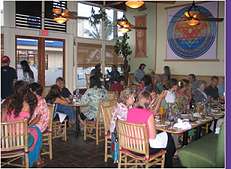 Blossoming Lotus opened on September 9, 2002 with the mission of providing its customers a place of healing and fun while they are experiencing a delicious vegan meal. The concept behind the restaurant also includes preparing and serving the food with love and positive intentions.
Located at 4504 Kukui St., in the heart of the Kapaa town on the garden island of Kauai, Hawaii, Blossoming Lotus has won several local and international awards, the latest of which is "Best Restaurant in Kauai", the Honolulu Advertisers' Ilima Award. Gabe Zingaro, the restaurant's co-founder, says that it was a great distinction to receive the award because it went to a vegan restaurant, of the dozens of restaurants in Kauai serving all varieties of cuisines. To the Blossoming Lotus co-founders, this signifies that delicious food and healthy dining don't have to be mutually exclusive.
Blossoming Lotus specializes in World Fusion Cuisine, celebrating the cuisine, wisdom, and beauty of cultures from around the world. One only has to look at the entrée names in their menu to see how the restaurant lives and breathes this philosophy.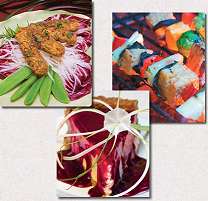 Mark would recommend to a new visitor one of his favorite items on their menu: Senorita Bombia's enchilada casserole, which is made with Spanish onion marinated tempeh, black beans, rice and corn tortillas, and four kinds of sauces: homemade chili sauce, vegan sour kreme, a carob mole sauce, and salsa fresca. The enchilada casserole is their most popular entrée. For dessert, he recommends the live chocolate fudge, made with raw cacao from Ecuador, coconut oil, and agave nectar. "It blows people away," he enthuses.
Mark comes from a family background which introduced him to the joys of cooking at an early age, being the grandson of a renowned New York chef and ice carver. After gaining experience at a health food store, Mark moved on to become a professional chef, starting the Blossoming Lotus Personal Chef Service and providing consultancy services to the Peninsula Spa and Credit Suisse/First Boston. His background and experience helped in steering Blossoming Lotus into the successful restaurant that it is now, though Mark says that this is "a collective effort - there have been many gifted chefs contributing recipes and inspiration" to the restaurant's menu, popular among both vegetarians and non-vegetarians alike.
Blossoming Lotus has a bakery and a juice bar beside the restaurant, and another branch in mainland United States, located at 925 NW Davis St., Portland, Oregon. They also have a cookbook, "Vegan World Fusion Cuisine", which has won numerous awards including a Gourmand Award for 'Best Veg Cookbook in the USA'.
VegDining features a recipe that is increasingly becoming popular in the restaurant, for you to try at home: "Vegan Cheezcake with Pineapple Topping".
We are proud to say that Blossoming Lotus is a VegDining Restaurant Partner, offering a 10% discount to VegDining Card holders. To learn more about Blossoming Lotus, you can visit their Full Listing on our site.
Photos courtesy of Blossoming Lotus Restaurant.
---
Other VegDining Restaurant Profiles ...
Vegan Pudding (Vancouver, BC, Canada)
WaterCourse (Denver, CO, USA)
Karma Waters (Hoi An, Vietnam)
Padmanadi Vegetarian Restaurant (Jakarta and Edmonton, Canada)
The Vegetable Garden (Rockville, MD, USA)
Vegetarian House (San Jose, CA, USA)
Restaurant Bambu Vegetariano (Valparaiso, Chile)
Candle Cafe/Candle 79 (New York, USA)
Montali Country House (Umbria, Italy)
Sage's Cafe (Salt Lake City, USA)
Prana Vegetarian Restaurant (Boracay, Philippines)
Revive Vegetarian Cafe (Auckland, New Zealand)