VegDining Restaurant Profile:
Restaurant Bambu Vegetariano
(Valparaiso, Chile)
by Heidi P. Cruz, VegDining.com

Known better for its meat empanadas and seafood dishes, Chilean cuisine does not immediately suggest "vegetarian-friendly". Nevertheless, by taking advantage of an abundance of seasonally available fresh fruits and vegetables, Bambu Vegetariano has championed the vegetarian way of life in this South American nation for almost a quarter of a century!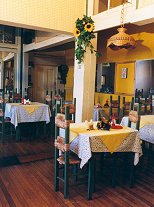 Located in Valparaiso, a coastal city of about 300,000, just a 120-km drive from the Chilean capital of Santiago, Bambu is the brainchild of Oscar Tobar, who started it with his first wife in 1983.
Oscar and his late wife decided to open the restaurant, being themselves vegetarians, hoping to share a whole new way of looking at their food and lifestyle. The couple recognized a need and opportunity to start something new, and this paved the way for the first vegetarian restaurant in Valparaiso. Oscar continued the business alone after his first wife passed away, until he met and married Zenith, and the couple forged a dynamic team working very hard to continuously improve the restaurant.
"Vegetarianism was a strange thing in our country back then, almost considered madness," Zenith recalls with a laugh, "but now we can proudly say that we have helped people learn about living a better life with healthier food!"
In the beginning, Restaurant Bambu Vegetariano was open only at lunchtime, catering to customers from nearby offices. With a lot of research and endless hours of experimentation and practice, Bambu was able to come up with its unique cuisine, and expanded its operation fulltime. Along the way, they've introduced new menu items like vegan cakes and biscuits and even classes on vegetarian cooking, meditation and tai chi.
Zenith describes Oscar as the "driving force" behind the restaurant, who still supervises its chef and a chef's assistant, and sometimes, even Oscar's mom pitches in. It used to be that Oscar did all the cooking himself, with a little help from members of the family. Zenith's role was to put Bambu on the cyber-map, and help build the business.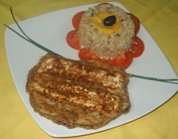 "Variety" is the key word describing Bambu's menu, written in English, Spanish and French. It features more than 20 different salads, soups, sandwiches, pizzas, fetuccinis, lasagnas, and best of all, vegetarian versions of typical Chilean dishes, as well as desserts, soymilk, natural fruit juices, teas, and coffee. First-time visitors should try the vegetarian steak with mixed salad, or whole rice. This is very thinly sliced tofu or seitan (guest's option), seasoned with soy sauce, and pan-fried in a tiny amount of oil. It's Bambu's specialty and their most popular entrée.
All of Bambu's food is free of preservatives and made with seasonal fresh products - no frozen or canned vegetables will go into your meal. They use only the freshest ingredients - vegetables, such as lettuce, beets, beetroot leaves, carrots, mushrooms, celery, and chicory; and fruits, such as apples, pears, kiwis, cactus apples (locally known as "tuna"), and cherimoyas.
Most of Bambu's customers are, surprisingly, non-vegetarians and many are longtime patrons. Zenith claims some visit the restaurant to learn, some because of health issues, and most keep coming back because of the delicious and healthy vegetarian cuisine. Loyal customers have attracted younger ones because they serve as living proof and walking advertisements of Bambu's cuisine: they've become leaner, younger-looking, and healthier than the average Chilean.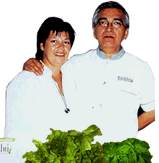 Restaurant Bambu Vegetariano's vegetarian cooking classes are led mostly by Zenith, and this is one of the reasons the owners have just moved to a newer, larger location. "We have grown so much in the twenty-four years we've been around, and we're here to stay!" Zenith says. Zenith still personally attends to guests' needs right at their tables, joking that, of course, she still gets the tip!
And plans are in the works for doubling the number of entrees on their already extensive menu. More choices for vegan guests, and more vegetarian versions of typically Chilean dishes, are being considered. Plans are also underway for a spin-off company to bring vegetarian and vegan products to Valparaiso and indeed the rest of Chile, products that are either very difficult or literally impossible to find here.
Restaurant Bambu Vegetariano is open everyday for brunch until early suppertime. With the opening of their new, bigger location, lessons in alternative therapy, such as reiki, acupuncture, Thai massage, reflexology, and yoga will form part of their regular offerings, in addition to cooking, tai chi, and meditation classes.
VegDining is proud to share Bambu's mission for a healthier lifestyle. Bambu is one of our Restaurant Partners, offering VegDining Card holders a 10% discount on food and drinks. To learn more about Restaurant Bambu Vegetariano, you can visit their Full Listing on our site. You might also like to try this recipe Bambu would like to share with you. Enjoy !
Photo courtesy of Restaurant Bambu Vegetariano.
---
Other VegDining Restaurant Profiles ...
Vegan Pudding (Vancouver, BC, Canada)
WaterCourse (Denver, CO, USA)
Karma Waters (Hoi An, Vietnam)
Padmanadi Vegetarian Restaurant (Jakarta and Edmonton, Canada)
The Vegetable Garden (Rockville, MD, USA)
Vegetarian House (San Jose, CA, USA)
Restaurant Bambu Vegetariano (Valparaiso, Chile)
Candle Cafe/Candle 79 (New York, USA)
Montali Country House (Umbria, Italy)
Sage's Cafe (Salt Lake City, USA)
Prana Vegetarian Restaurant (Boracay, Philippines)
Revive Vegetarian Cafe (Auckland, New Zealand)