Special Offer
for VegDining Card Holders
for December 2012



We're very pleased to offer the following monthly special for VegDining Card holders ...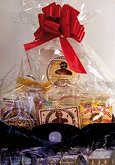 VEGAN HOLIDAY BASKET

From our friends at TheVegetarianSite.com, VegDining Card holders save 30% on a wonderful vegan holiday basket. Choose "conventional" or gluten-free.
Conventional basket contains a full bag of Gingerbread plus 12 large cookies & bars, including Chocolate Chip, Chocolate Chip Walnut, Peanut Butter, Oatmeal Raisin Walnut, Lemony Lemon, German Chocolate, Lemon Coconut, Cinnamon Twist, Gingerbread, Golden Brownie, Pumpkin Spice, Mint Chip.
Special: $31.50 US Regular price $45 US



Also earn 20 VegDining Rewards Program points on your purchase!
Offer good until December 31, 2012.


If you have a VegDining Card, please login here, and revisit this page to place your order.
Otherwise ...
Click here to learn more about - and order - your VegDining Card.

Stay tuned for more VegDining Card specials in the weeks ahead !

Your friends at VegDining.com and TheVegetarianSite.com.