PEACE-GARDEN
47 Clarence Street
Ottawa, ON Canada
Phone: (613) 562-2434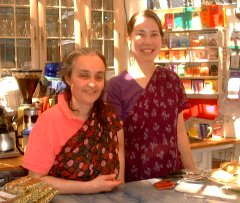 CATEGORY:
MOSTLY VEGAN (Fully Vegetarian).
HOURS:
Mon - Wed 7:30 AM - 8 PM; Thu - Fri 7:30 AM - 9:00 PM; Sat 9 AM - 9:30 PM; Sun 9 AM - 8 PM
CUISINE:
International vegetarian gourmet coffee house and power juice bar.
SERVICE:
Full Service, Catering, Cafeteria, Counter and Take-out.
SPECIALTIES:
Mediterranean, Indian, Italian, Malaysian, Low-fat non-cholesterol Un-Meat sandwiches, homemade desserts, several soups, dahl. Strudels - vegetable (vegan), fruit or cheese. Homemade country dairy icecream.
FEATURES:
Coffees, espresso, health teas, wheatgrass, large variety of sandwiches. Health and spiritual books. UNICEF cards. CBC Radio says we have the best soup in the market. Open for seven years ! Featured in Ottawa Citizen (Nov. 26, 1999 pg F13).
NON-SMOKING:
Our restaurant is completely non-smoking.
RESERVATIONS:
Required for large groups.
VEGDINING CARD
DISCOUNT:

We're pleased to be part of the VegDining Card program!

Our offer to VegDining Card holders:
5% discount on all veg food and non-alcoholic beverages

CREDIT CARDS:
We accept MasterCard and Visa.
DIRECTIONS:
In the middle of the old Byward Market, off of Sussex (right on Sussex), in the Times Square Building (largest building in the Market with the big clock on top) at corner of Parent street. Inside by the fountains. Street parking all around - municipal lots across street, parking in building.


MAP:
Click here for a map to find us

TRAVEL FEATURE:
Click here for VegDining's Travel Feature that mentions us.
---
| | | |
| --- | --- | --- |
| | COMMENTS FROM VegDining.com VISITORS: | |
"I am a long-time customer of the Peace Garden Cafe going on twenty years. It is my oasis from the hectic "reality" of the hustle-and-bustle world I live in most of the time. The food is outstanding simple, yet always fresh and delicious.
The ambiance is just like the name says, a garden of Peace pure Peace. The servers are thoughtful, efficient and kind just what I need. I hope to have lunch there the day I ascend to heaven, and can only hope they have a branch there. Thanks for the many years of nourishing meals and sweet smiles."

BT
Ottawa, ON
Canada



"It's 23 year later, the world is changed. The Peace Garden is one of the best nurturing calming inspiring food. Feeds the light of soul. Surrounding, peaceful, beauty, light. Tasting the deliciousness of food prepared with love and care. Sustains with healthy, scrumptious nutrition. Body - Mind - Heart - Soul. I love the Peace Garden!"

YC
Ottawa, ON
Canada



"The service at Peace Garden is outstanding! Whenever I am down I go in and find a smiling face and helpful staff. The vegan truffles are to die for! I recommend the mint ones. I feel good service can be hard to come by sometimes but Peace Garden never fails - it is consistently cheerful and uplifting in every way."

P
Ottawa, ON
Canada


There are 4 other comments that visitors have written but you'll need to login to
view them.

If you'd like to view them, please click here to login, or to get yourself an account.



---

Copyright © 1999 - 2022 by VegDining.com. All rights reserved.
VegDining, VegDining.com and VegDining Card are Trademarks of VegDining.com